×
[PR]上記の広告は3ヶ月以上新規記事投稿のないブログに表示されています。新しい記事を書く事で広告が消えます。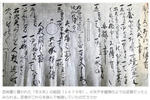 The
Watana
be Documents(150 pages) was discovered in 2000. Koka city has researched the documents since last year and they released some info.
According to
Sankei's repor

t
, the documents contain exprosive's recipe, instructions for Musket and horseback riding, and some occult arts.
During Edo period, they were hired as "Oshinobi-yaku" by Owari Tokugawa clan.
"Oshinobi-yaku" was like part time job, they were called only needed.
Otherwise, they were living as common farmer.
Nikkei's report
says, Oshinobi-yaku was secret contract.
They found 10 written pledges of keeping it secret from family and friends between 1700 ~ 1829.
It seems the Ninjutsu documents were only 17 pages(include the pledges?)
Koka city is going to publish the documents.
PR