×
[PR]上記の広告は3ヶ月以上新規記事投稿のないブログに表示されています。新しい記事を書く事で広告が消えます。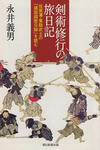 A Diary of Kenjutsu Training Journey ~ Reading "Shokoku Kaireki Nichiroku" by a Hagakure Samurai in Saga.

The diary "Shokoku Kaireki Nichiroku" was written by Muta Bun'nosuke(1830-1890) who was Saga-han Samurai. He was son of one of Saga-han Kenjutsu instructors, the school was Tetshujin-ryu. He traveled all over Japan to visit Kenjutsu Dojos between 1853-1855.
This record tells us the system of Kenjutsu training journey in those days.
First, Bun'nosuke needed to get permission for the journey from Saga Han. Saga Han pays expenses of his journey but each Han where he visits Dojo provides room and meals.
Kenjutsu training travelers were called Shugyo-nin. Han had Inn to accept them which was called Shugyo-nin Yado.
Shugyo-nin applies training to Dojos through Shugyo-nin Yado master.
Shugyo-nin meets other Shugyo-nin in the Inn, sometimes they travel together.
Sometimes Dojo master and students visit the Inn to have party after training, or the Inn master took Shugyo-nin to sightseeings.

Martial arts training journey in feudal period Japan is well known but details like that hasn't known.
Excellent book for researchers.
Yatate is portable brush-and-ink case in medieval Japan. Chosunninja used to say "Yatate is blowgun", that's wrong. This writing tool was designed to fit into waist sash.
There is an ink soaked cotton ball in the ink case.

In this video, I'm faking to dip the brush into the ink because the cotton ball is stale and dry. I used the other ink case that was out of view.