×
[PR]上記の広告は3ヶ月以上新規記事投稿のないブログに表示されています。新しい記事を書く事で広告が消えます。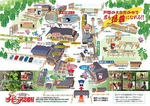 I thought I had to clarify this,
Togakure Ninja is fictional ninja.
You might think "What about Ninja tools in the museum in Togakushi village"
All the Ninja tools in the museum were donated by Hatsumi.
Nobody knows how he got them, they never been examined by scholars.
I am pretty sure that they were made to display in the museum just like Ninja tools in the Iga Ninjutsu museum.
There are official Togakushi village journals in Nagano Library.
The only description about Togakure Ninja was about the museum.
Togakure Ninja was officialy born when the museum was built.
There's no Togakure Ninja in historical records.
Of course some Nagano related historical records like about Takeda or Hojo mentioned Ninja(Suppa, Shinobi) but no "Togakure"
That is different from Iga/Koka.
However, to boost tourism economy, Togakushi is promoting the fictional Ninja as real.
That is a bad part of Japanese, economy is priority.
PR