×
[PR]上記の広告は3ヶ月以上新規記事投稿のないブログに表示されています。新しい記事を書く事で広告が消えます。
Book title : Reality of Japanese tradition.
Author : Seido Fujii
Amazon link

Quote from the book

"Fortunately, peacefull time goes on in Edo period. Around 1760's, fictional Ninja or Ninjutsu started appearing in theatre or books. Jiraiya, Tobikato, Goemon Ishikawa...etc. In theatre, Ninja had to be distinguished easilly. So the black Ninja costume was beginning to seen in Joruri or Kabuki at the time.
Wearing such a costume in real world was like appealing that I was a suspicious man."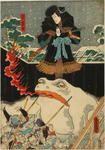 "Sexy Kunoichi Ninja was most likely invented by Futaro Yamada."

"It was said that Ryotaro Shiba or Sanpei Shirato were the ones who brought ranks in Ninja society.
Bansenshukai described Jonin but it meant a Ninja who's good at Ninjutsu and there was no Chunin or Genin."
PR