×
[PR]上記の広告は3ヶ月以上新規記事投稿のないブログに表示されています。新しい記事を書く事で広告が消えます。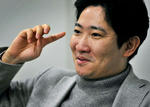 LINK
http://podcast.tbsradio.jp/nichiten/files/20111023.mp3
Summary
"This is an old Ninjutsu scroll sold in 8000 Yen. I thought Ninja chain maile was made with iron but this scroll says warp thread is hemp, weft thread is egg plant tree. This is strong enough to block sword and spear. I don't think it blocks spear but probably it prevents sword slashing."
"Ninja scroll usually contains 'no way' technics. For example this says put yam juice around your nose when you are in water then you can breathe. Or write Manji shape on your chest then you won't get drowned."
"Jingu Baseball Stadium (Shibuya) used to be residents for Koka-kumi. There was shooting range."
"I visited descendant of a ninja leader in a mountain, his house was surrounded by stonewall. His family has operated pharmacy for generations. Asked was he aware of being Ninja dscendant, he said never. But only when he climbs high tree for cutting branches, he tells himself "Don't be scared, you are Ninja dscendant.""
"He showed me old book, it was recipes for biologicla weapon."
"I was skeptical with its effect but the idea was surprising."
"The peak of Ninjutsu evolution was around 1650."
"Many Daimyo died right after Tokugawa seized power. I don't believe they were all poisoned but I really care chemistry in those days."
"I brought the recipe to faculty of pharmaceutical sciences, the professor said it is not effective to kill human but it could damage eyes."
"The pharmaceutical science professor also said the poisons on the book have 'noticeable' effects like swelling or blister, why not quiet poison like arsenic?"
PR