×
[PR]上記の広告は3ヶ月以上新規記事投稿のないブログに表示されています。新しい記事を書く事で広告が消えます。
From Shinano Mainichi 2016 Feb 24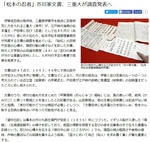 The Akutagawa family was retainer of Lord Toda of Matsumoto and had a root in Koka.
The Akutagawa texts (Ninjutsu Menkyo and etc) have been known but never really researched academically.
One of the texts "Koka Onjutsu Gokuhi" describes "A windy day, (Ninja) flew with a giant kite and dropped fire(bomb?) on the castle"
Mie University professor Yamada Yuji said the Ninjutsu is uniquely Akutagawa ryu but needs to be verified whether it's possible or not.
He will release a book of his research in this coming June.