Though he doesn't stop the Ninja fraud.

ChosonNinja
IMPORTANT INFORMATION!!!
YOUTUBE HAS GIVEN ME A NOTICE THAT I HAVE VIOLATED 3 COPYRIGHTED MATERIALS AND A JAPAN COMPANY HAS DONE THIS AND THIS ACCOUNT MAY BE TERMINATED IN 7 DAYS.
I HAVE CREATED ANOTHER CHANNEL TO CONTINUE SHARING WITH ALL OF YOU.
It is called: "ChosunNinja"
He now says "Choson-Ryu" not Koka-Ryu.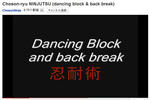 PR
トラックバックURL